UPDATES REGARDING THE CORONA VIRUS:
*Update 24 May 2020*
As you know we resumed public worship this weekend having the first public Masses in over two months: Sat. 4.15pm & Sun. 11.15am. Thanks to the hard work of our ushers, liturgy teams, livefeed assistants and
cleaning/disinfecting crews everything went smoothly. Attendance was 20% of the normal participation. Please know that our parish is committed to safeguard the health and safety of all worshippers.  Here are some of the steps we have taken:
-Placement of six sanitation stations
-Designated pews and floor markings to respect social distancing.
-All worshippers are expected to wear masks. Masks are available for those who need them.
-Congregational singing is minimal to limit droplet spread.
-No common chalice will be offered.
-No physical contact during the liturgy.
-Cleaning/disinfecting takes place after each public Mass.
-No gathering of persons in the narthex before or after Mass.
Next weekend: The Solemnity of Pentecost we will have the usual Sunday schedule: Sat. 4.15pm; Sun. 8.15am, 11.15am & 1.30pm (Spanish). A general dispensation from the Sunday obligation remains in place. If you wish to attend Mass you are most welcome. Please continue to be patient with all of us… we've never done this before.
Happy Memorial Day Weekend to all!
Father Anthony
**(Update: 13 April 2020)**
It would be a mistake to believe, that during these extraordinary times, as we battle a global pandemic, that the mission and ministry of the Church has ceased. It would also be a mistake to believe that somehow the spiritual and material goods of the Church are no longer available to us. This is simply NOT TRUE. 
Sure, the regular mission and ministry of the Church has been restricted BUT this reality calls us to find other creative ways to minister. Please know that we are working hard to find creative ways to continue to offer ministry during these days of social distancing and shelter-in-place laws. 
So what are we doing here in SS. Peter & Paul? 
Here are some of the ways that we are continuing to minister and to make the spiritual and material goods of the Church available…
-Father Anthony and many parishioners are reaching out each day to parishioners, especially the sick, via phone, text, email, sending notes. 
-Livefeed morning prayer at 9am on our
Facebook page
, and evening prayer at 7pm, as well as a variety of other spiritual resources shared there.
-Sacraments are available, especially in danger of death. 
-The main church is open for prayer a number of hours every day.
-The Adoration chapel is open 24/7. Please remember to use the CODE. If you don't have the code please email  Amanda or myself.
***Please observe social distancing and proper sanitation when you visit the church or the adoration chapel. This is important not only for your health support for the health of all other visitors.***
-Confessions will we heard on Saturdays at the usual times. They will he heard in the main body of the Church. ALL proper social distancing and hygiene precautions must be observed. Hearing confessions in a small room wouldn't be prudent during this time. 
-The parish office remains closed BUT all staff are working from home and are available to you via email and phone. Please reach out to them by email and then they can make the necessary arrangements to assist you further. 
Contact info for our staff:
-Father Anthony/ cell: 903-714-0483, text, call, amclaughlin@cdlex.org
-Executive Assistant/Amanda Tolar: atolar@cdlex.org / ssppchurch@cdlex.org
-Director Sacred Music/Susan Lackney: slackney@cdlex.org
-Director of Religious Formation Mary Vonderbrink: mvonderbrink@cdlex.org
-Business Manager/Cindy Underwood: cunderwood@cdlex.org
-Custodian/Mevsud Starcevic Contacted through Cindy or Fr. Anthony 
I'd like to also take an opportunity again to thank you for your financial commitment to our parish during these challenging times. I'm so very grateful for the many parishioners who are donating online and sending their envelopes to the church office. Please keep it up 🙂
Let's  all  continue to pray for those who have contracted the virus, for those who have died and for their grieving families.
Finally I ask the question: 
Who have you helped today? Who have you reached out to you today? What are you doing to help your neighbor beyond your own family… This is the only way our parish can move forward.
We will get through this! Jesus mercy, Mary help. 
**(Update: 18 March 2020)**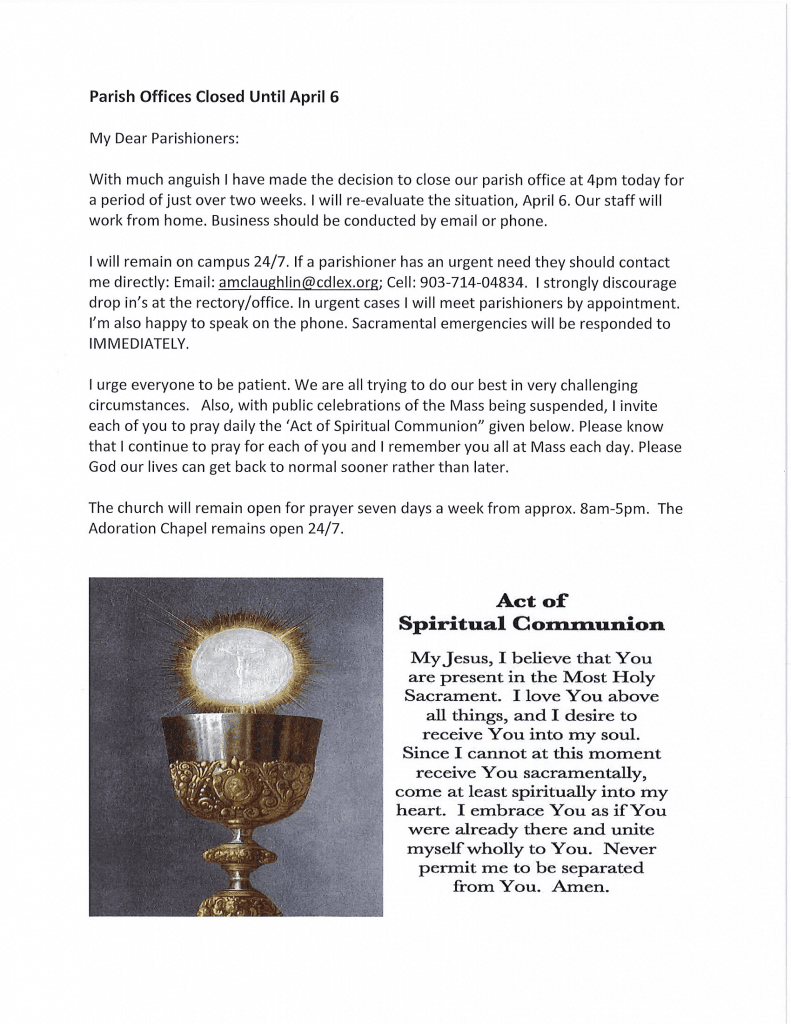 (Update: 16 March)
Bishop Stowe has directed that all public celebrations of the Mass be suspended beginning tomorrow, March 17.
What this will look like for our parish:
-NO MASS WILL BE CELEBRATED PUBLICLY UNTIL BISHOP STOWE DIRECTS OTHERWISE.
Meaning no public daily Masses and no public Sunday Masses. NONE. I will offer Mass each day in private according to my own schedule. ALL MASS INTENTIONS WILL BE HONORED.
ON SUNDAYS…while there will be no public Masses….all the faithful are reminded that they still have the responsibility of observing the Lord's Day, especially by praying. I will offer Sunday Mass in private for ALL OUR PARISHIONERS.
-PUBLIC FUNERAL MASSES: Will be permitted while observing the strictest of hygiene.
-WEDDING MASSES/SERVICES:Will be permitted while observing the strictest of hygiene.
-BAPTISMS: Will take place outside of Mass while observing the strictest of hygiene.
-MINISTRY TO THE SICK: All routine visits to the sick are suspended. This is to protect the housebound/sick person and the lay minister. Most of those whom we visit are already high risk. ALL SACRAMENTAL EMERGENCIES WILL BE COVERED. I WILL ASSUME IMMEDIATE RESPONSIBILITY FOR ALL MINISTRY TO THE SICK.
-STATIONS OF THE CROSS are suspended. All are encouraged to pray the stations with their families in private.
-CONFESSIONS WILL BE HEARD ON SATURDAYS: 3pm any anytime by arrangement with me.
-THE CHURCH WILL REMAIN OPEN EVERY DAY FOR PRAYER. The Adoration Chapel remains open 24/7
-THE PARISH OFFICE WILL REMAIN OPEN as best we can.
-I will remain visible, available and present. ALL EMERGENCIES WILL BE RESPONDED TO. I will continue to offer ministry to all and to accompany you through these difficult times. I commit myself to be creative in ensuring that social distancing does not mean social isolation for our people. THE MISSION AND MINISTRY OF THE CHURCH WILL AND MUST CONTINUE.
My cell is: 903-714-0483, email: amclaughlin@cdlex.org. PLEASE DO NOT HESITATE TO REACH OUT.
THIS IS AN EVER CHANGING SITUATION. I WILL KEEP YOU UPDATED AS THINGS CHANGE.
Finally…….Perhaps we can email, text, call, send a note, card to a neighbor in distress. TAKE CARE OF OTHERS! TAKE CARE OF YOUR NEIGHBOR.
Please stay calm, stay healthy and stay constant in prayer. Please be patient with our staff, with me and with each other. These are truly uncharted waters.
ADVISORY
To: All Parishes and Missions in the Catholic Diocese of Lexington
From: Department of Communications, Catholic Diocese of Lexington
Bishop Cancels Religious Education Classes in Diocese Until Kentucky Schools Reopen
LEXINGTON — Bishop John Stowe, OFM Conv., has mandated that parishes and missions in the Catholic Diocese of Lexington cancel religious education classes until Kentucky schools reopen. Combined with his dispensation of all Catholics in the diocese from their Sunday Mass obligation, the move is intended to cut down on large gatherings of people as Kentucky faces the COVID-19 pandemic.
"As we strive to prevent the spread of COVID-19 in our communities, measures to reduce attendance are an act of Christian charity toward others, especially the sick and elderly. This public health emergency calls on all of us to live out our belief in safeguarding and promoting the common good."
Para: Todas las Parroquias y Misiones en la Diócesis Católica de Lexington
De: Departamento de Comunicaciones, Diócesis Católica de Lexington
El Obispo cancela las Clases de Educación Religiosa en la Diócesis hasta que se vuelvan a abrir las escuelas de Kentucky.
LEXINGTON – El Obispo John Stowe, OFM Conv., ha ordenado que las parroquias y misiones en la Diócesis Católica de Lexington cancelen las clases de educación religiosa hasta que se vuelvan a abrir las escuelas de Kentucky. Combinada con su dispensación de la obligación de ir a Misa Dominical de todos los católicos en la diócesis, la medida tiene la intención de reducir las grandes reuniones de personas mientras Kentucky se enfrenta a la pandemia COVID-19.
"Mientras nos esforzamos por evitar la propagación de COVID-19 en nuestras comunidades, las medidas para reducir la asistencia son un acto de caridad cristiana hacia los demás, especialmente los enfermos y los ancianos. Esta emergencia de salud pública nos llama a todos a vivir nuestra creencia en salvaguardar y promover el bien común. "
(Message from Father Anthony with prayer, 13 March 2020)
​My Dear Parishioners:
During this time of threat from the Coronavirus please know that our parish is continuing to take every precaution. I urge all parishioners to stay calm, to stay healthy​,​ and to remain constant in prayer.
So long as the threat from this virus remains​,​ we cannot pretend that it's business as usual.  Our ordinary lives will experience significant disruption even the ability of the Church to minister, as freely and as fully as before, will be disrupted. Please know that despite the limitations of these difficult days, the mission of our parish will and must continue.
Please find attached a prayer that I invite all persons and families to pray daily together during this crisis (this prayer is also pasted below and will be available in the narthex of the church.) It is important that we turn to the Lord, that we trust in Him and that we remain hopeful. In the end all will be well. Our hope in the Lord assures us of this.
I remain committed to offer pastoral care and to accompany all of you during these difficult days.
Jesus Mercy, Mary Help.
Saints Peter & Paul, pray for us.
Father Anthony
Prayer During the Threat from the Coronavirus
Jesus Christ, you traveled through towns and villages "curing every disease and illness." At your command, the sick were made well. Come to our aid now, in the midst of the global spread of the coronavirus, that we may experience your healing love.
Heal those who are sick with the virus. May they regain their strength and health through quality medical care.
Heal us from our fear, which prevents nations from working together and neighbors from helping one another.
Heal us from our pride, which can make us claim invulnerability to a disease that knows no borders.
Jesus Christ, healer of all, stay by our side in this time of uncertainty and sorrow.
Be with those who have died from the virus. May they be at rest with you in your eternal peace.
Be with the families of those who are sick or have died. As they worry and grieve, defend them from illness and despair. May they know your peace.
Be with the doctors, nurses, researchers and all medical professionals who seek to heal and help those affected and who put themselves at risk in the process. May they know your protection and peace.
Be with the leaders of all nations. Give them the foresight to act with charity and true concern for the well-being of the people they are meant to serve. Give them the wisdom to invest in long-term solutions that will help prepare for or prevent future outbreaks. May they know your peace, as they work together to achieve it on earth.
Whether we are home or abroad, surrounded by many people suffering from this illness or only a few, Jesus Christ, stay with us as we endure and mourn, persist and prepare. In place of our anxiety, give us your peace.
Jesus Christ, heal us. Blessed Mother, Help of the Sick, Pray for Us. Saints Peter & Paul, Our Parish Patrons, Pray for us.
(All persons/families are asked to please pray this prayer daily)
Una Oracion por el Coronavirus
Jesucristo, tú atravesaste pueblos y villas "curando toda dolencia y toda enfermedad." Por tu mandato, los enfermos fueron curados. Acude a nuestra ayuda hoy, en medio de la propagación global del coronavirus, para que podamos sentir tu amor curativo.
Cura a todos los enfermos con el virus. Que puedan recuperar sus fuerzas y sanar mediante un buen cuidado médico.
Sánanos de nuestros temores, los cuales no permiten que las naciones trabajen unidas y que los vecinos se ayuden unos a otros.
Cúranos de nuestro orgullo, el cual nos hace asumir invulnerabilidad ante una enfermedad que no tiene límites. Jesucristo, sanador de todo, acompáñanos en estos tiempos de incertidumbre y pena.
Acompaña aquellos que han muerto por causa del virus. Que estén descansando a tu lado en tu paz eterna.
Acompaña las familias de quienes están enfermos o que han muerto. En medio de sus preocupaciones y penas, líbrales de enfermedad y desesperación. Permíteles sentir tu paz.
Acompaña los doctores, enfermeras, investigadores y todos los profesionales médicos que andan en búsqueda de sanar y ayudar a los afectados, y que corren riesgos en el proceso. Permíteles sentir tu protección y paz.
Acompaña los líderes de todas las naciones. Dales la visión para actuar con amor, y un verdadero interés en el bienestar de la gente que deben de servir. Dales la sabiduría para poder invertir en soluciones de largo plazo que ayudarán a la preparación o prevención de futuros brotes. Permíteles conocer tu paz en esta tierra, mientras juntos trabajan para lograrlo.
Ya estemos en nuestras casas o en el extranjero, rodeados de muchos o de unos pocos que sufren de esta enfermedad, Jesucristo, acompáñanos mientras soportamos y lamentamos, persistimos y nos preparamos. Sustituye nuestra ansiedad por tu paz. Jesucristo, sánanos.
Animamos a todas las personas y familias que recen esta oración diariamente.
(Updated: 12 March 2020)
The Knights of Columbus of Danville and Harrodsburg are cancelling the Lenten Fish Fry until further notice. With the uncertainty and lack of knowledge that exists about the corona-virus at this time it seems better to be cautious than to proceed as normal. We thank those who have participated in the Fish Fry to date and hope to be serving you again soon.
In addition to the fish fries being cancelled, the Amen Corner will be closed until further notice, and BP Screenings will be postponed until further notice.
Information will be shared here, on our Facebook page, as well as through the e-mail distribution list. If you are not currently on e-mail distribution and would like to be, contact us here or at ssppchurch@cdlex.org
To: Priests and Parish Life Directors of the Catholic Diocese of Lexington

From: Department of Communications, Catholic Diocese of Lexington

Note: This will be posted online and shared with the media later this morning.

Catholics in Lexington Diocese Dispensed From Sunday Mass Obligation as Part of Epidemic Response

LEXINGTON — In an effort to prevent the spread of COVID-19 and with particular concern for vulnerable people, Bishop John Stowe, OFM Conv., has granted a dispensation from the Sunday Mass obligation for Catholics in the Diocese of Lexington for the weekend of March 14-15. Weekend Masses will still be celebrated, but Catholics are not obligated to attend.

"This decision was not taken lightly, as the Sunday celebration of the Eucharist is at the heart of the life of the Church. And especially at moments of deep concern for the common good, people of faith turn more deeply to prayer and the support that communities of faith provide," said Bishop Stowe. "We are in communication with public health officials, and the risks of large gatherings as a means of spreading this virus are real. This is why the diocese has already adopted measures urging avoidance of contact with others at our liturgies."

Pastors should encourage those who are ill or have symptoms to stay home as an act of charity to their fellow parishioners, and vulnerable people, especially those over the age of 60, are encouraged to stay home. Those wishing to follow Sunday Mass from their homes can do so via Facebook livestream courtesy of the Cathedral of Christ the King in Lexington this Sunday at 9 a.m. (www.facebook.com/ctklexky)

Daily Masses, which are not as heavily attended as Sunday Masses, will also continue to be offered. Catholic churches are also encouraged to provide opportunities for handwashing at every Mass location. As the COVID-19 pandemic is a rapidly changing situation, the diocese will provide further updates as needed.